In collaboration with several NGOs, including Mercy Malaysia and a dental team from Taiwan, a new healthcare initiative has been launched to address the urgent medical needs of the stateless people in Sabah, Malaysia. The initiative includes a free dental clinic and essential medical services to help treat conditions such as fevers and flu. The inspiration for this initiative came from a desire to help the community with its healthcare needs.
As the community lacks access to resources such as electricity and running water, the clinic operates by having people come to the clinics to receive treatment. The collaboration between the NGOs has been very smooth, with Mercy Malaysia organizing orientations to ensure everyone was on the same page.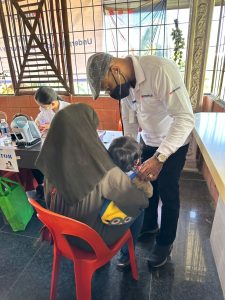 The lack of affordable dental care has left many in the community with severe teeth problems, often resulting in the extraction of multiple teeth at once. One girl even expressed jealousy over not having more teeth pulled, demonstrating the community's different perspective on dental health. In addition to providing treatment, the initiative aims to educate the community about health and hygiene practices.
The goal is to partner with other NGOs to provide hygiene kits and organize health talks to promote healthy eating habits and preventative measures. The initiative's success will be measured by the number of people receiving treatment and the flow of people coming to the clinic.


However, challenges such as limited resources and the need to remain low profile due to some community members' undocumented or stateless status have arisen. To ensure the initiative's sustainability in the long term, the NGOs are seeking more partnerships to provide regular treatments and education to the community.
We encourage other NGOs doing similar work to collaborate with us to meet the pressing healthcare needs of the community. Overall, this initiative brings hope to those in the stateless communities of Sabah, Malaysia, by providing necessary medical care and education to help prevent future health problems. It is a reminder of the importance of collaboration and compassion in addressing healthcare needs worldwide.